Buying A Hockey Stick for Someone?
A Hockey Stick is a great gift! But shopping for one could be intimidating. We are here to help you through it.  
First off, try to find out the following information;  
1. What blade pattern do they like?  
You can find this on the front, near the top of their current stick, or send us a picture.

Ex. (P92 - Matthews)
2. What size / flex do they use?
Let us know their height and weight, or get the flex rating off their current stick

Height matters because cutting the stick can dramatically affect the flex rating. 

Generally, the flex rating is half of the players body weight
3. Is there a specific brand or model they want?
Today's top end sticks often feature the company that makes them (Ex. Bauer), the line of sticks (Ex. Nexus), and the specific make (Ex. 2N Pro).  We will help you through this process. 
Now
Ask the HockeyStickMan
and we will walk you through this!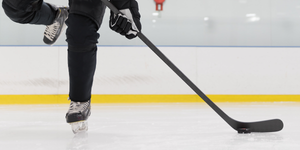 The Pro Blackout
Your top of the line - 100% Carbon hockey stick. Built for performance and maintains the durability to withstand the demands of the pro game.
Buy Now