Partnerships
HockeyStickMan is committed to making the game of hockey more affordable for everyone. We work with various members of the hockey community to help players and families save money on their sticks and equipment.
Interested in a partnership with HockeyStickMan?  Please send us an email at info@hockeystickman.com for more information.
Current Partners
CSGA


Working to develop new opportunities in the Canadian Sporting Goods sector. 

CFIB


We are a member in good standing with the Canadian Federation of Independent Business. Supporting Canadian Entrepreneurship! 

Society of Professional Hockey Equipment Managers

We are a long time member and supporter of the development of Professional Hockey Trainers. 




Purchase a 2-4 of this adult post game recovery beverage for a chance to win monthly Pro Stock Gear from us. 

Maidens Hockey Development

Maidens HD wants to take your game to the next level with on ice skills training, off ice personal training, and video coaching. 

 

 

Canada's #1 Student Hockey League is passionate about higher educational hockey and saving their members money on quality gear. Giveaways. 

OUBHL

The Ontario University Ball Hockey League features the best university players in Canada.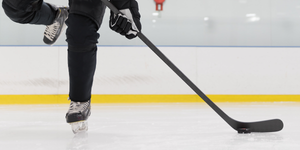 The Pro Blackout
Your top of the line - 100% Carbon hockey stick. Built for performance and maintains the durability to withstand the demands of the pro game.
Buy Now
Expansion lineup!
The Pro Blackout series has evolved to include gloves, skates, and goalie sticks! These high-quality items are manufactured without the branding, giving you access to the best quality gear, while not having to pay top-dollar for the name on them.