FAQ
Where do we get our Pro Stock Sticks?
We source our pro stock sticks directly from 150+ teams across different levels, including professional, junior, and collegiate.  Our focus is on providing quality sticks at the best possible price so players can use what the pros use.  The sticks are intended for use rather than as collectables, so we generally do not list our products by which player, team, or custom colours the stick was initially made for.  Pro players generally get sticks in batches of 12 and rarely use them all.  What you see listed on our site are new, never used sticks, unless they are otherwise identified as (Refurbished).
See Pro Stock Collection | Learn More about Pro Stock Sticks
How are we able to sell the sticks this cheap?
Our philosophy has been the same from the start: minimize costs in order to provide the best quality sticks at the best possible price.  Though we have now expanded slightly from our roots as a family business, we still stick to that same principle.  With a small team and limited advertising, we are able to allocate the bulk of our resources to acquiring sticks, and do not have to factor many other costs into the price we sell at.  Many people think our prices are too good to be true, so if you won't take our word for it, check out some customer reviews below.
In order to keep our everyday pricing as low as possible, most discount codes cannot be applied to Blackout products
How long does it take to get the stick if I order online? 
In most cases, orders will be fulfilled and sent out within one business day.  We ship out of Ontario, Canada so delivery times will be relative to proximity.  Local customers may get their stick next day, and in most cases 2-3.  Shipping times are hardly more than a week to anywhere in North America.
What is a refurbished hockey stick?
To put it simply, refurbished sticks are hockey sticks that have been broken in the shaft and then repaired.  Every year we buy thousands of broken sticks from pro teams, of which roughly half of which are turned into refurbs (depending on factors like where the break is, blade condition, and specs of stick).  Using an internal shaft repair process, we are able to fuse the two portions of the stick back together.  Since our start in 2010, we have completed 20,000+ repairs, extending the life of top end sticks and providing them to customers at a great price.
See Pictures and Learn More. | Watch Video on the Process
Can we order custom Pro Stock Sticks? 
No.  All the pro stock sticks we bring in are made for pro players and sourced directly from their teams.  We unfortunately don't have any control over which models and specs we get in, though what is popular with our customers generally reflects what is popular with pro players, and our inventory therefore usually aligns well with what is in demand.
Is HockeyStickMan.com in USD or CAD? 
HockeyStickMan.com is operated in USD in order to best serve our worldwide customer base.  Converted rates can be displayed using the dropdown at the top of the site, but all transactions will be processed in USD.   
Canadian customers looking to shop natively in CAD can use www.HockeyStickMan.ca which has a separate but similar inventory.
How do I read the variant listings?
We list our sticks in the way the we will gives the most useful information in the most readable manner. All listings include curve, handedness and flex of the stick.  If no more details are included, the other features are stock (including grip, height, blade height etc.) A typical variant might look like this:
Left – P29 (Crosby) – 85 Flex (Blade 1)
In order this means that the stick is left handed, a P29 "Crosby" curve, and 85 flex.  Because there is no other info included, you can assume it is stock height (60-61" shaft), with grip, and without a max blade.  Blade 1 would be what we call a P29 curve (more info on that below)
A more complicated stick listing might look like this:
Right – P88M (Kane) – 87 Flex/66"/Max Blade/Non-Grip (Blade 2) *Dressed as 1X Lite*
In order, this shows the handedness (right), curve (P88M "Kane" – the M indicates max blade), flex (87), height (66" shaft), blade height (max), grip (none) and graphics (dressed as a Bauer Vapor 1X Lite).
What are the different blade types?
In order to make our shopping experience as simple as possible, we have categorized the 16 most common curves we see to make it easier to shop across brands that produce the same curve but call it different names.  For instance, Blade 1 would refer to a CCM P29, Bauer P92, Warrior W03, True TC2 etc.
Many pro players will get custom curves that don't fit in to our blade chart.  These curves are indicated as custom, and will often be compared to one of our 16 curves if they are have similar features.
HockeyStickMan Blade Chart | Shop Custom Curves
Is the inventory at your storefront locations the same as on the website?
We operate two locations in Ontario, the Toronto Showroom and the Belleville Warehouse.  There may be some discrepancies, but generally speaking the HockeyStickMan.ca inventory is what is available in Toronto, and the HockeyStickMan.com inventory is what is available in Belleville.
HockeyStickMan Toronto Showroom
532 Evans Ave, Toronto, ON
416-252-1111
HockeyStickMan Belleville Warehouse
365 Maitland Dr, Belleville, ON
613-967-6000


I got my stick and it was a custom color/logo or had someone else's name on it?

All of our pro stock sticks are sourced directly from our network of teams.  They were all custom made for a specific player, and will almost always have their name, number or nickname on the namebar.  Some teams will get sticks with custom graphics such as logos or team colours added, which in our mind makes the stick extra special and unique. 
Over the years we have had requests to include this information in the product listing, but for several reasons continue to be against it.  First and foremost, the additional labour required to upload sticks including Player/Team/Colour would be significant and the price point of the stick would have to be reflected.  Our mission is to sell the sticks as performance pieces rather than memorabilia, so though cool, we only mention differences that we feel will impact play.  Finally, we want to protect our teams and athletes as best as possible.  Many prefer not to have items listed under their name, and we always do what we can to respect their wishes.
Are all of your sticks pro stock?
Though the bulk of our inventory is pro stock, there are some exceptions.  We are always keeping an eye out for opportunities to purchase in bulk to provide great sticks at excellent prices, so sometimes will pick up some retail models.  Typically all top-end sticks will be pro stock, with the retail models being value options.  Occasionally pro teams will have a few retail models in their inventory that they had on hand as backup sticks, which we would treat as pro stock.
What is your warranty policy?
At HockeyStickMan, our mission is to provide hockey families with high quality equipment at a great price.  One of the main ways we do this is by offering Pro Stock, Closeout, and Pro Blackout sticks for well below comparable retail prices.  
To submit a warranty claim, click here.
Pro stock sticks are made and manufactured for players at the top level of the game, and were not initially intended to be sold at the retail level. They also have quality controls in place to ensure no manufacturers defects with which they warranty against at the retail level. As a result, no pro stock sticks carry a manufacturer's warranty, and as the retailer of the stick we choose to reflect this in our pricing structure rather than creating time consuming and labor intensive warranty processes.
Saving money up front on a stick will more than pay for itself in the long run. With that being said, we are hockey players ourselves, and definitely understand how frustrating it is when a stick breaks quickly, so we do try to help in that situation, typically with a partial credit towards a replacement (full details below). This credit comes directly from HockeyStickMan and not the manufacturing company as is the case with standard retail warranties.
We also offer a selection of retail sticks with manufacturer warranties.  These sticks are HSM Approved as twigs that we think provide great value, even at retail price.  To help provide a little extra value, we offer free shipping on most of these products.
What is a "dressed" stick?

Dressed sticks refer to sticks that are painted as one model, but are actually a different model. For instance, a Nexus 2N Pro "Dressed As" a Nexus Geo would look like a Geo, but with a 2N Pro build.  There are a number of reasons a player might choose to do this, but the most typical reason is the player has a specific stick that they really like and aren't interested in using newer models. The manufacturer still wants it to look like they are using the latest release for marketing purposes, so they make their custom sticks with the player's preferred build and the latest paint job.
When possible, we list sticks according to build rather than paint.  Some brands (ie Bauer & Warrior) print the build on the shaft, which makes it easy for us to make an accurate listing.  CCM builds are a little more complicated, and are printed on stickers that are often no longer on the stick by the time we receive them from the teams we work with.  For this reason, we always list CCM sticks as they are dressed in order to be as consistent with listings as possible.  If you are looking for a specific build code or want details on the specs of a specific stick, email info@hockeystickman.com and we will help you out to the best of our ability.
What is your return policy?
New Products
Purchased from HockeystickMan in store - New Condition
30 day full refund or exchange - New products must be unused (and untaped/unaltered in the case of sticks) with original packaging and labels.

Exchange must be for an item of equal or lesser value. OR the customer must pay any additional costs associated with an item of greater value.

After 30 days, products are no longer eligible for any full or partial refund or credit.
Purchased from HockeystickMan online - New Condition
All criteria indicated in the above (in store purchase) section applies to online order as well.

Customers who purchase online and wish to return an item will be required to cover the cost of shipping the product back to HockeyStickMan.

If the customer is exchanging for another option and is covering the cost of shipping the original item back, HockeyStickMan will cover the cost of shipping the exchange item to the customer.

If the exchange item is of greater value the customer will be invoiced for the difference in cost between the two items.
***NOTE*** For any refunds/exchanges on online orders, the product must be received and examined back at a HockeyStickMan facility before the refund or exchange is issued. If a product has been used or altered (including tapped and/or cut in the case of hockey sticks) it is no longer eligible for return or exchange. 
Purchased from HockeystickMan online or in store - Used Condition
Once a product has been used or altered (including taped or cut in the case of hockey sticks) it is no longer eligible for a return or refund.
Used Products
Purchased from HockeystickMan online or in store
Used gear/sticks are all considered FINAL SALE and not eligible for return/full refund.
The curve on my stick is right but the blade is thicker/fatter? 

A growing trend with pro players is the "Max Blade" where players choose to have the same curve depth, blade length, etc. but they choose to have a thicker blade.  The thicker blade gives players a little more blade for tips, deflections, face-offs, and more. It doesn't affect the look of the blade or the performance of your shot, stickhandling, passing, so each year more and more players are ordering their sticks this way.
We previously did not identify sticks as Max Blade, but have recognized the growing demand and have begun to indicate which patterns are Max Blade by adding an M after the curve (ie P29M rather than P29).

More questions? Ask the HockeyStickMan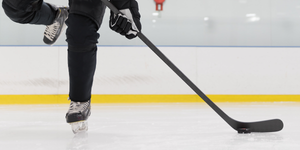 The Pro Blackout
Your top of the line - 100% Carbon hockey stick. Built for performance and maintains the durability to withstand the demands of the pro game.
Buy Now
Expansion lineup!
The Pro Blackout series has evolved to include gloves, skates, and goalie sticks! These high-quality items are manufactured without the branding, giving you access to the best quality gear, while not having to pay top-dollar for the name on them.