Hockey Stick DIY Jobs
What better way to use broken hockey sticks than to create awesome DIY projects for your time at home!
Here is a list of some products and ideas that we have available for purchase on our site directly, or, you can complete them on your own! We also have bulk amounts of hockey stick shafts available to help with your projects! Send us pictures of your designs and we will feature them here for others to see!
This is one of our personal favourites - the Hockey Stick Chair!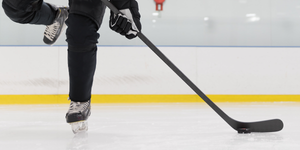 The Pro Blackout
Your top of the line - 100% Carbon hockey stick. Built for performance and maintains the durability to withstand the demands of the pro game.
Buy Now
Expansion lineup!
The Pro Blackout series has evolved to include gloves, skates, and goalie sticks! These high-quality items are manufactured without the branding, giving you access to the best quality gear, while not having to pay top-dollar for the name on them.