Stick Handling - Quick Hands Drill
Instructions:
- Set up 2 stick-shafts elevated on pucks approximately 1.5 ft apart from each other (Pucks, shafts, and more can be found here!)
- While standing behind the shafts, stick handle from one side of the obstacle to the other, sliding the ball/puck under the shaft, and raising your blade over top to control the ball on either side.
Key: Attempt to only have one touch on the ball/puck as you go between the obstacles. To increase difficulty, move the shafts closer together and increase stick-handling speed.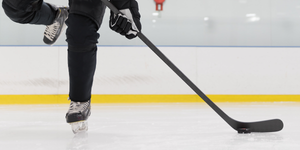 The Pro Blackout
Your top of the line - 100% Carbon hockey stick. Built for performance and maintains the durability to withstand the demands of the pro game.
Buy Now