Stick Handling - Soft Touch Drill
Instructions:
Set up a stick shaft elevated on pucks (Pucks, shafts, and more can be found here!)
- Flip the ball over the shaft, maintaining control and dragging it back under the elevated shaft in one fluid motion. Practice this on both forehand and backhand
Key: Keeping the ball as close to the top of the shaft as possible and pulling it back under the stick smoothly is the key to this drill. Having constant control of the ball/puck while executing this move helps to get rid of stone-hands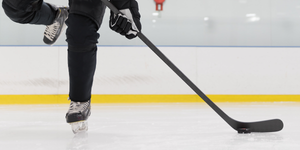 The Pro Blackout
Your top of the line - 100% Carbon hockey stick. Built for performance and maintains the durability to withstand the demands of the pro game.
Buy Now
Expansion lineup!
The Pro Blackout series has evolved to include gloves, skates, and goalie sticks! These high-quality items are manufactured without the branding, giving you access to the best quality gear, while not having to pay top-dollar for the name on them.