The Proper Flex
The general rule is that your hockey stick should be approximately
half your body weight
. However, we've seen thousands of pro players using sticks that are far less than half their body weight.  Considering their power and upper body strength, how much flex to body weight ratio should a young player have? 
The chart below outlines the recommended flex you should be playing with based on your height and weight:

THE PROPER FLEX CHART 


Understanding Flex
- The flex rating on a stick is the amount of pounds of pressure it takes to bend the stick one inch. We call this "loading the stick".  It takes 25, 35, and 45 lbs of pressure to "load" a pro flex stick as compared to 50 lbs of pressure to load a normal junior stick. 
Player's Height and Flex
 - the taller the player the more leverage he/she has to "load" the stick.  You will see in our chart that shorter players require less flex than taller players.  
Note: this is just meant to be a guideline.  As players, we know that personal preference is still important, but this is a great starting point.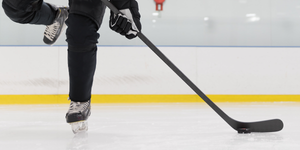 The Pro Blackout
Your top of the line - 100% Carbon hockey stick. Built for performance and maintains the durability to withstand the demands of the pro game.
Buy Now
Expansion lineup!
The Pro Blackout series has evolved to include gloves, skates, and goalie sticks! These high-quality items are manufactured without the branding, giving you access to the best quality gear, while not having to pay top-dollar for the name on them.