CCM Extreme Flex 5 Pro - Used Pro Stock Goalie Chest Protector (White/Red)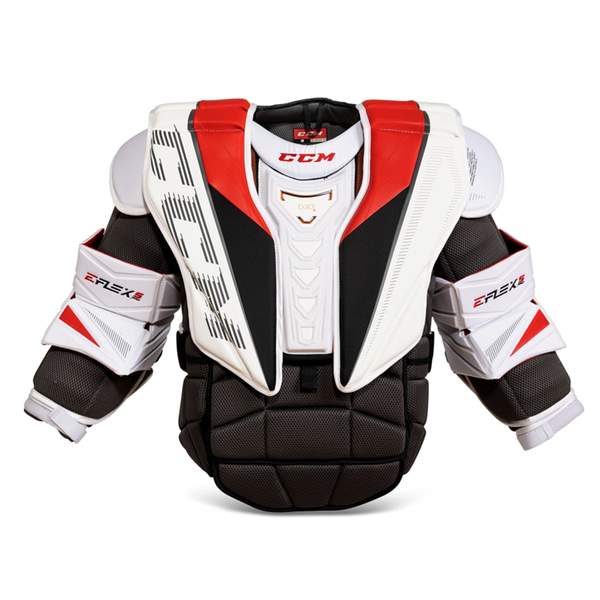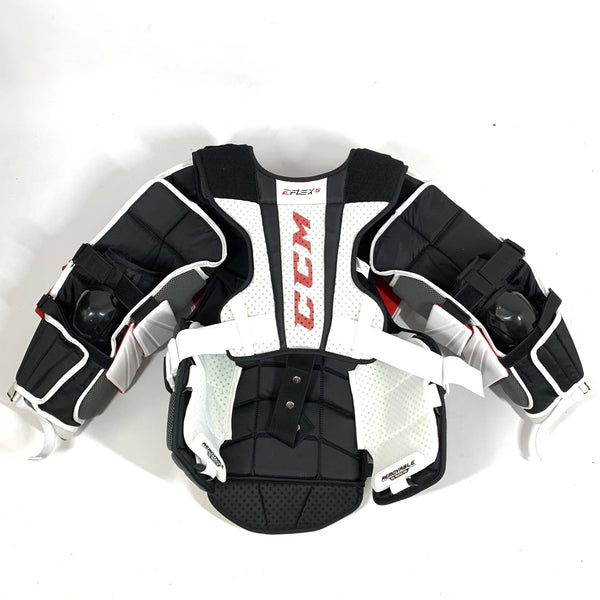 NEW EXTREME FLEX 5 PRO STOCK GOALIE CHEST PROTECTOR
Designed to give you the best combination of mobility and protection, the EFlex 5 Pro Chest Protector is built to help you make saves with no fear. 
Key features of this chest protector include: 
Ventilated Dual Layer Rib Protection - For maximum protection the EFlex 5 gives you an extended rib cage as well as a dual layer protection system.
D3O Smart Material - Extra stiff padding featured in the sternum allows you to square up to every shot without any hesitation. 
Max Flex Fit - From top to bottom the EFlex 5 Pro Chest Protector allows for maximum mobility to aid you in stretching out for the biggest of saves. 
The shoulder wings feature a quick release velcro adjustment system allowing you to create a customizable fit with ease.
The back of the EFlex 5 is compiled of a breathable segmented foam insert to keep you dry as well as increase mobility. 
The bicep and forearm protection feature compression molded HD foam meaning you have extreme protection and enhanced mobility allowing you to close every hole and cover more net with confidence.
The Extreme Flex 5 Chest Protector from CCM is all about mobility while sustaining an ultra protective layer to allow you to make saves with zero hesitation. Good enough for pro players, you can look no further for your next save enhancing piece of goalie equipment.