Vaughn V5 7800 - Used Pro Stock Goalie Chest Protector (Navy/Gold)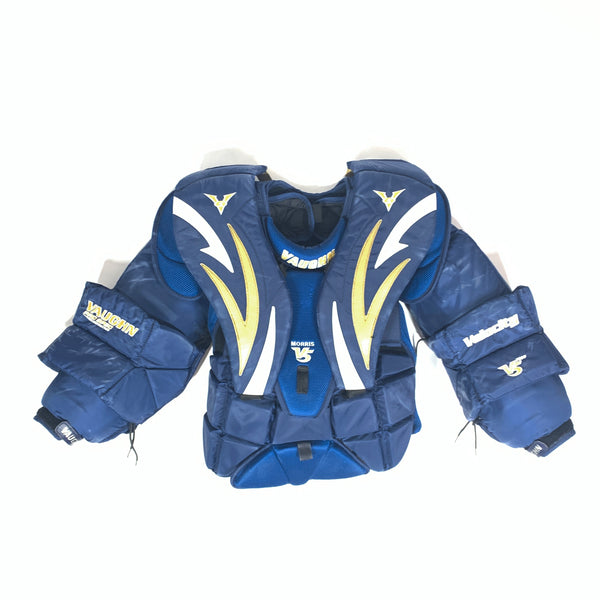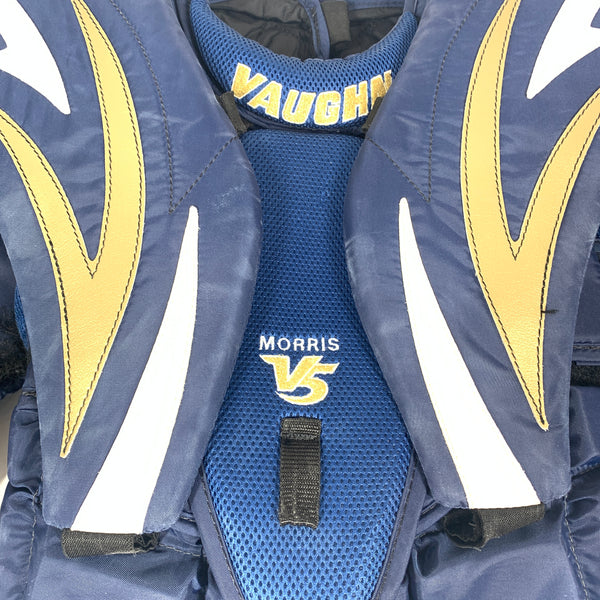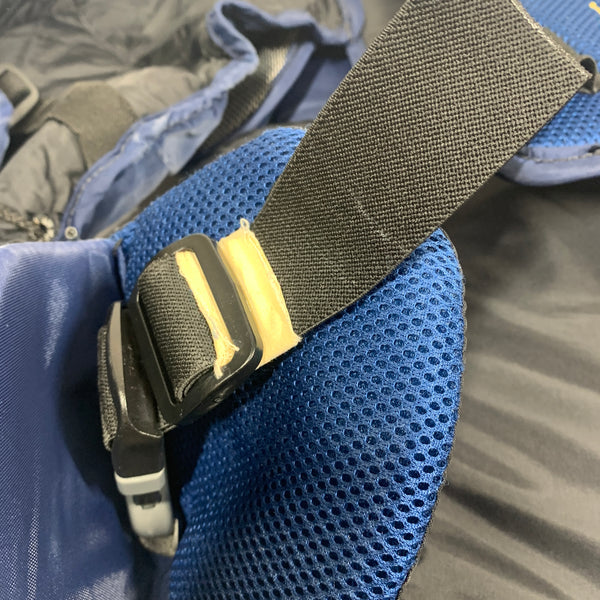 USED VAUGHN V5 7800 PRO STOCK GOALIE CHEST PROTECTOR
*VAUGHN GOALIE GEAR IS CUSTOM MADE IN CANADA TO THE HIGHEST STANDARDS
This Vaughn chest protector is lightly used by an NCAA goalie. All the straps are in tact and work as intended. There are very little signs of wear and a little discolouration. The back middle straps appear to have been taped by the previous goalie to indicate how tight they needed to be. 
Designed to give you the best combination of mobility and protection, the Vaughn V5 7800 Pro Chest Protector is built to help you make saves with no fear. 
Key features of this chest protector include: 
Multi-sectioned chest protector with low flex belly panel - The multi section fit allows for increased mobility while ensuring the chest protector provides you with maximum protection. The low flex belly panel moves with you and creates a seamless protection pad even in your most crunched positions. 
HD foam inserts in the sternum and spine - Extra hard padding in the form of HD foam, ensures you are protected in the most important areas allowing you to square up to every shot with zero hesitation. 
Wide shoulder floaters - Improved from the previous 7600 model, Vaughn has widened the shoulders of this chest protector increasing net coverage and protection. HD foam inserts sit below the main shoulder floater on the shoulder joint for added protection. 
Customizable fit - The tapered forearms and four point adjustable elbow pads create a seamless fit even with your gloves on. Every strap on this chest protector is designed to allow the goalie to create the perfect fit. Additional, removeable pillows under the shoulder floaters allow for a customizable fit. 
Side chest pad extensions with velcro adjustment - Covering the upper ribcage and closing those holes between your arms, the new side chest pad extensions allow for extra protection to give you increased confidence.  
The V5 7800 Chest Protector from Vaughn is all about mobility while sustaining an ultra protective layer to allow you to make saves with zero hesitation. Good enough for pro players, you can look no further for your next piece of goalie equipment at an unbeatable price.