Custom SkateWorks Ultrastop Shot Blockers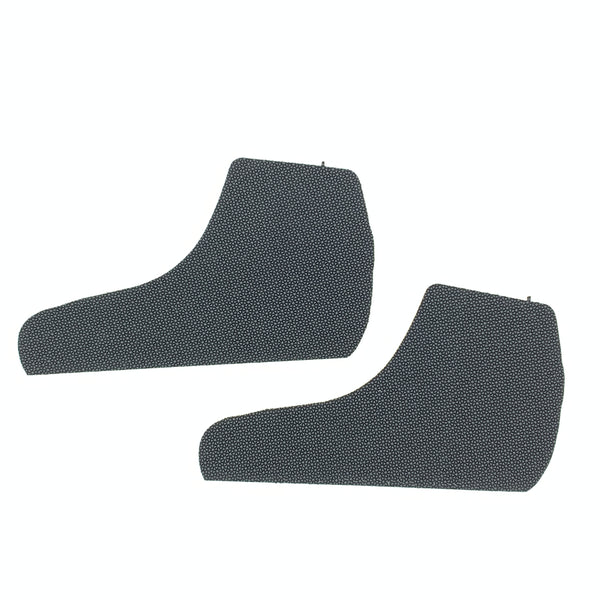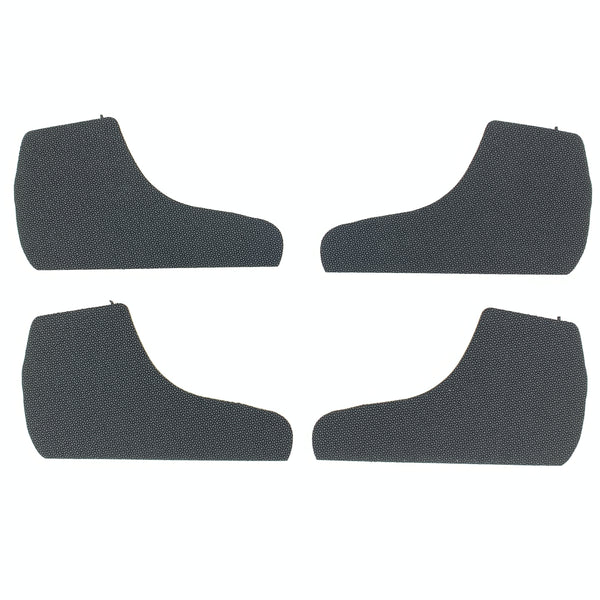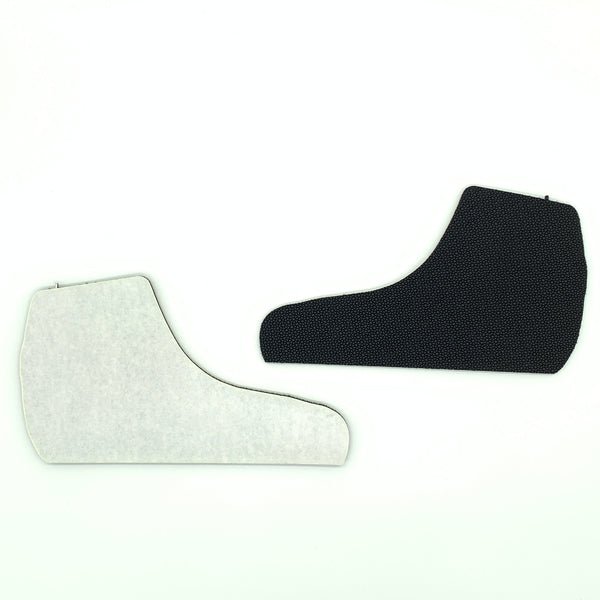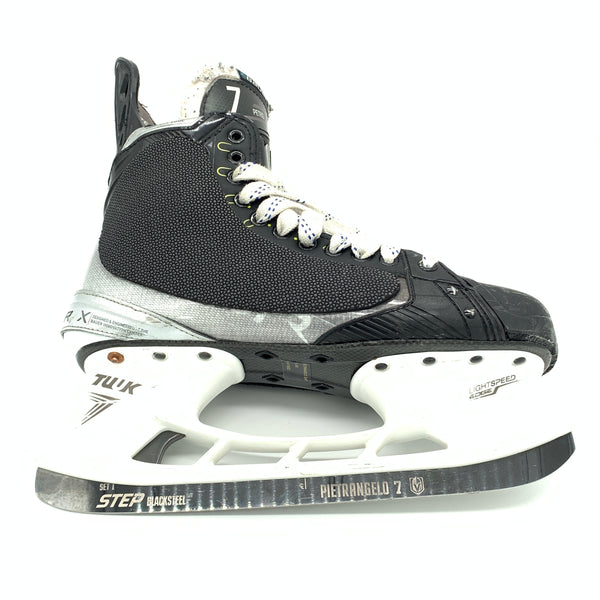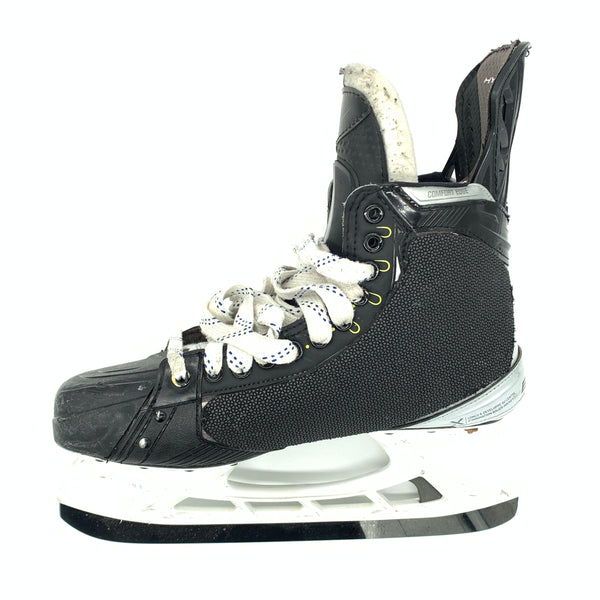 Custom SkateWorks UltraStop Shot Blocker.

We see a lot of used skates come through our doors at HockeyStickMan, and anytime they have shot blockers on them, they are from Custom Skate Works. These are professional grade shot blockers used by NHL players as well as other professional hockey players. We knew that if we wanted to carry shot blockers, they had to be the best ones out there. These are HSM approved and we are proud to be offering them in our Elite Pro Shop and online.

Newly introduced at the retail level by HockeyStickMan we are proud to offer a professional grade shot blocker to you.

The 3mm Ultrastop Shot Blocker Foam is a non-porous impact absorbing foam. It is top laminated with abrasion and cut resistant superfabric and bottom laminated with non-reusable pressure sensitive adhesive.

One package comes with four pieces for the inside and outside of your skates. These are designed to fit skates sizes 5-12 and must be cut to the proper shape based on the template provided and your skate.
Please be sure to bake your skates before applying the shot blockers.  Overheating the shot blockers can cause delamination or premature cracking. 
Below is a video on Custom Skate Works Instagram where they go over the installation process on their Ultrastop Shot Blockers (A blow dryer will also work in place of a heat gun).

Steel & Holder Sizing
How to find the right size 
Pictured above is where you can find the size of steel that will fit in your skate holder based on the number printed on the holder. On both skates there is a 3 digit number on the outside side of the white holder on the bottom of your skate. This number will coincide with one of the options above and that is guaranteed to fit your skate.
Bauer and CCM steel will fit differently so it is important to choose Edge steel or XS steel based on the brand of skate you own. It is important to note that if you own a pro stock pair of skates the holder may not be the same brand as the skate. For example we see many CCM skates with Bauer Lightspeed Edge holders. If this is the case for you, order the steel that is the same brand as your holder and not the boot. 
Lightspeed Edge = Bauer steel
Speedblade XS = CCM steel
Vertexx = Bauer goalie steel.
Skate Sharpening & Profiling
We are proud to now offer skate sharpening and profiling with our HSM Elite Pro Shop. Any purchase of a new set of skates or steel comes with a free sharpen and profile! Check out the most common profile options here
Equipment Shipping & Warranty
SHIPPING
HockeyStickMan is happy to service customers every day with shipping orders all across North America! Gear is shipped using UPS & FedEx because the added reliability & flexibility of working with the two biggest couriers in the world helps us get our customers their order as fast as possible.

Hockey sticks are kind of a funny item to ship, expensive to send you just one, but pretty much the same cost to ship 2, 3, 4 or 5. Therefore we charge a flat rate of $19.99 for Ground ($21.99 with Signature) and $29.99 for Express (within most areas of the United States and Canada).  

Note:
The flat rate does not cover the full cost of most shipments. 
FedEx/UPS does not go to some areas so we have to ship USPS or Canada Post.
HSM WARRANTY POLICY
There is no warranty on this product. Returns are at the cost and responsibility of the buyer.
NEW PRODUCTS
Purchased from HockeystickMan in store - New Condition
30 day full refund or exchange - New products must be unused with original packaging and labels.

Exchange must be for an item of equal or lesser value. OR the customer must pay any additional costs associated with an item of greater value.

After 30 days, products are no longer eligible for any full or partial refund or credit.
Purchased from HockeystickMan online - New Condition
All criteria indicated in the above (in store purchase) section applies to online order as well.

Customers who purchase online and wish to return an item will be required to cover the cost of shipping the product back to HockeyStickMan.

If the customer is exchanging for another option and is covering the cost of shipping the original item back, HockeyStickMan will cover the cost of shipping the exchange item to the customer.

If the exchange item is of greater value the customer will be invoiced for the difference in cost between the two items.
***NOTE*** For any refunds/exchanges on online orders, the product must be received and examined back at a HockeyStickMan facility before the refund or exchange is issued. If a product has been used or altered (including tapped and/or cut in the case of hockey sticks) it is no longer eligible for return or exchange. 
Purchased from HockeystickMan online or in store - Used Condition
Once a product has been used or altered (including taped or cut in the case of hockey sticks) it is no longer eligible for a return or refund.
USED EQUIPMENT
Purchased from HockeystickMan online or in store
All used sticks and equipment are sold as FINAL SALE and are not eligible for replacements, warranty, or store credit.
HSM DAMAGED/BROKEN IN TRANSIT POLICY
Unfortunately products being shipped out are occasionally damaged in transit by the courier service. We understand this can be a frustrating scenario, however, we at HockeyStickMan have no control over the actions of the courier service.
If your package arrives in a damaged state, reach out to HockeyStickMan immediately (within 24 hours where possible).
We also ask that you take the following pictures as these may be required to file a claim with the shipping company.
Photo of the product packaging

Photos clearly showing the break/damage to the product.

Photo of the whole product.
Once we receive contact from you and images provided, we will work our hardest to get this unpleasant scenario sorted out for you as quickly as possible.