Vaughn SLR3 Pro Carbon - Used Pro Stock Goalie Chest Protector (Black/White/Green)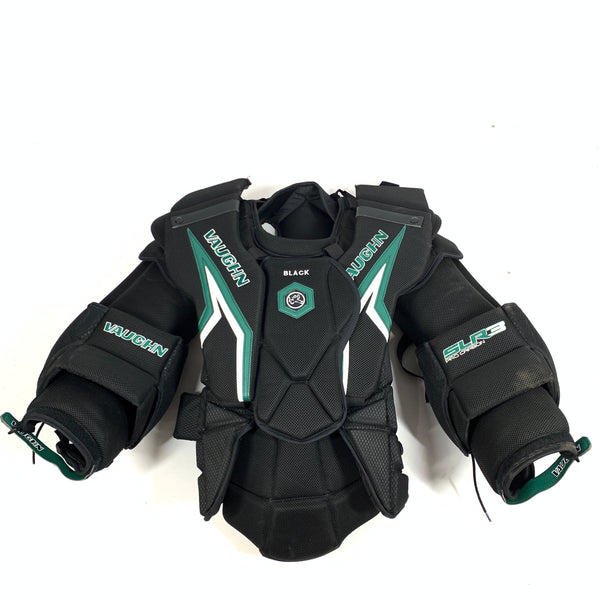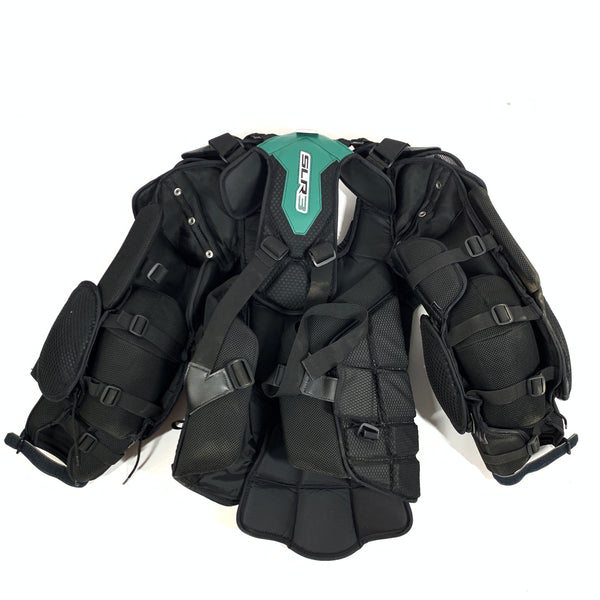 USED SLR3 PRO CARBON PRO STOCK GOALIE CHEST PROTECTOR
*VAUGHN GOALIE GEAR IS CUSTOM MADE IN CANADA TO THE HIGHEST STANDARDS
This Vaughn Chest protector is lightly used by an NCAA goalie. All the straps are in tact and work as intended. There are very little to no signs of wear and zero discolouration. 
The Vaughn SLR3 chest protector is new for the Ventus line released in 2021 and is designed to offer the lightest weight chest protector while still providing the protection and range of motion goalies crave. 
The Ventus SLR3, offers high density foam with composite reinforcement to provide you with maximum protection. The sternum protection plate is made form 100% composite materials to provide central protection. 
The arms of this SLR3 chest protector feature a tapered forearm with HD foam and carbon reinforcements as well as a reinforced bicep. In the new SLR3, Vaughn has enhanced the adjustable portion of the arms to create a perfect fit in length for every goalie. 
Around the elbows of this chest protector the SLR3 offers extended padding to cover the biceps and forearms around a four point adjustable elbow pad to create a customizable fit allowing the goalie to keep their arms close to their body.
The back offers an HD foam spine protection pad with a dual back strap system to allow the goalie a perfect fit. 
If your looking for a top of the line lightweight chest protector from a pro goalie in sweet custom colours, look no further than the Vaughn SLR3 Pro Carbon chest  protector and start making saves without any hesitation.