#HockeyAtHome
THIS PAGE WILL BE UPDATED DAILY WITH NEW STUFF! 
#HockeyAtHome is a movement started by the HSM Hockey staff. In light of all that is going on in the world, we want you to remember that our beloved sport can be enjoyed even while quarantined at home.
We reminisced about our early hockey days...playing mini sticks in our basements, winning Cups in our minds, and practicing our skills on our driveways.  We encourage everyone to continue to consume hockey in these various settings and sharpen their skills and love of the game while at it. 
HSM staff have put forth some ideas, now its your turn. 
We are calling on other business and customers to post pictures and videos to Facebook/Instagram, tag @hockeystickman and #HockeyAtHome.  We will be giving out great prizes as well!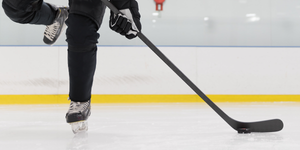 The Pro Blackout
Your top of the line - 100% Carbon hockey stick. Built for performance and maintains the durability to withstand the demands of the pro game.
Buy Now